Early Years Forum Challenges and Hopes – April 28th and 29th Le Meridien Hotel, Cairo, Egypt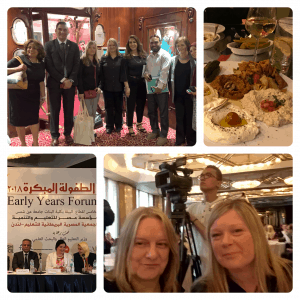 The TiEGr Team were delighted to be invited to speak at the Early Years Forum: Challenges and Hopes 2-day conference in Cairo. Jackie and Sarah were invited to be guest speakers by Hala Seliet, Chair of the Arab British Academy for Training and Human Resources Development (ABAHARD).
Early years provision and development has recently become a priority area for the Egyptian government. The conference, attended by over 300 people over 2 days, explored the challenges and barriers to developing quality early years provision.
One of the conference themes was early years teacher training and qualifications and the TiEGr Team had a speaker slot and ran a workshop about the benefits of using UK regulated qualifications to train staff.
After a couple of days we were exhausted but went home having made a great many new friends and remembering the warm welcome and reception we received by both the conference participants and organisers. The interest shown in UK regulated early years qualifications was amazing and we look forward to working closely with ABAHARD to introduce CACHE Early Years qualification to Egypt.